There are so many techniques and approaches in today's Inbound Marketing, it's no wonder marketing managers struggle to stay up-to-date. But if you are using outdated techniques, chances are you are falling behind in your social media efforts.
In order to make your life easier, we have compiled a list of 7 helpful social media tools which, when used in conjunction with a solid Inbound Marketing methodology, can not only boost your social but your ROI.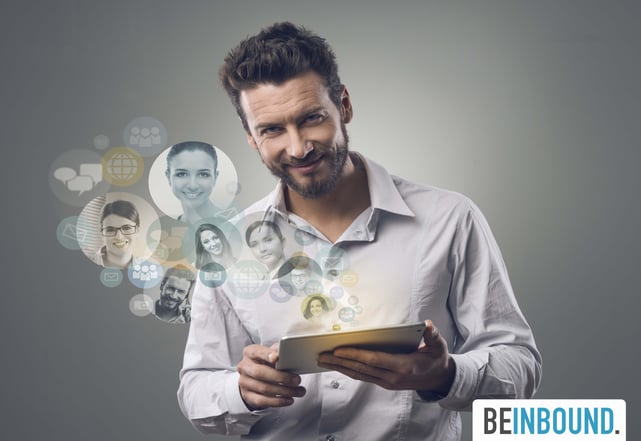 1. Hootsuite
Hootsuite allows you to manage your social media and all your accounts through a well-designed dashboard. Schedule your messages weeks or months in advance and free up time to work on other pressing tasks. The streaming section of Hootsuite allows you to see who is sharing your content and helps you keep track of your all-star followers in one spot. Don't forget to show them some love by engaging and sharing content that interests them.
Depending on the size and budget of your business, Hootsuite offers different plans and pricing options, it even lets you add a few social profiles for free for personal use. So go ahead and give it a go!
"Content is king, but distribution is queen. And she wears the pants." – Jonathan Perelman, Vice President, Buzzfeed Motion Pictures
2. Oktopost
Oktopost is to B2B what Hootsuite is to B2C. Oktopost lets you schedule your social messages in advance, manages your social marketing and provides you with the data you need to analyse your success, and that's not even half of what the platform can do for you. It also integrates with most other B2B marketing tools, allowing you to measure your social media efforts on a granular level.
"Oktopost has allowed Cerasis to remain effective at social media and content marketing, consistently getting in front of our desired target audience." – Adam Robinson, Director of Marketing at Cerasis
3. HubSpot
If you're looking to build your blog content, build landing pages, schedule social media, track URLs, utlise SEO, or investigate marketing analytics, then look no further. HubSpot offers all the tools to grow your business in one spot, with the added capability to test and measure your efforts.
HubSpot is great for small and large businesses. It's so easy to use, you'll be kicking yourself for not signing up sooner.
"75% of companies using marketing automation see ROI within 12 months, 44% within 6 months." Salesforce - Slideshare

4. Buffer
Buffer provides a simple yet sophisticated interface for its users. You can create multiple posts and schedule them to publish at your convenience (like Hootsuite). However, what these guys do really well is assisting in getting your content out there at the right time.

One interesting feature is the 'Buffer queue'. The app will schedule your posts when it deems most appropriate. It optimises your content by posting when it believes the most re-tweets and clicks will happen. Pretty cool, right!?

Buffer offers a basic version for free but this limits the number of messages you can queue. They also have a professional plan for $10/month that unlocks a wide range of features.
5. Snip.ly
The ability to share interesting and thought-provoking content is essential in today's "content is king" world. But, how do you get people to remember where the content came from? Snip.ly!
The Snip.ly extension essentially places a call-to-action (CTA) on all of your curated content, directing traffic back to your site. Using the Snip.ly extension in the top right-hand corner of your screen couldn't be easier and it's guaranteed to increase clicks and conversions, and subsequently lower your bounce rate.
Snip.ly's analytics function can even show you the movements of all your social visitors. The dashboard portion of Snip.ly is truly great. You can see when leads and conversions are created for your business, in real-time.
"Content Marketing is all the marketing that's left." Seth Godin, Author, Tribes
6. Zapier
Let's face it… automation is a complete lifesaver. As I mentioned earlier, using these tools in conjunction with one another is imperative. Zapier, for example, is essential for those using Snip.ly and HubSpot, because it will take all of your information and automate it into HubSpot.
Zapier allows you to unlock the power of your apps by moving their data across, it even lets you automate the process. If you're using multiple web apps, this tool is for you.
"I'd say a major issue of the moment is data quality. B2B marketers need to be sure the contact and profile information they have on customers and prospects is both complete and accurate." Ruth Stevens, President, eMarketing Strategy
7. Social Mention
An easy-to-use tool that shows all brand mentions (positive, neutral or negative), tracks keywords, shows your top users and identifies the best sources. The best part is the ability to search and track your business and your products against your competitors.
"Content is fire, social media is gasoline." Jay Baer, President, Convince & Convert
Armed with these 7 tools, or even just a few of them, you're ready to master the social aspect of your Inbound Marketing. If you want to find out more about how to transform your B2B marketing from good to great – and more tips on social media success – download our free ebook by clicking below.