Relationships between brands and their prospects isn't much different from real life dating. People want to do business with people, so the way businesses build trust with them should be the same process as any other relationship.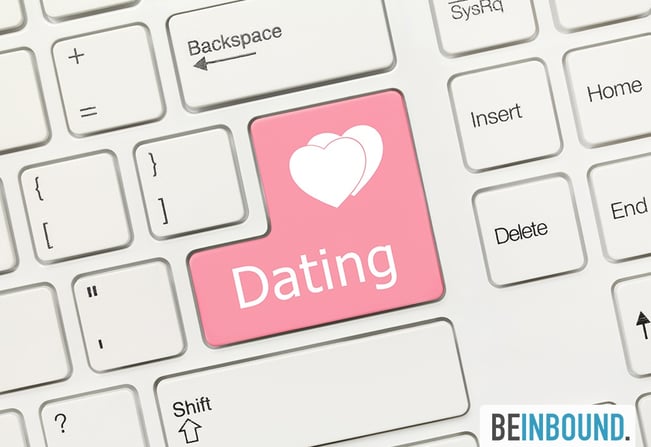 Let's see this applied to the Inbound Marketing methodology:
1. Attract: If the attraction's not there, the chances of a relationship forming a pretty slim. That's why you need to entice prospects to your site with engaging, well-written content. You want to be the one that gets found when potential customers are searching for a solution to their problem. A blog that provides the answers to prospects' questions? Now that is attractive.
2. Convert: We all know that slightly awkward part of the relationship where you're not exactly dating, but aren't exclusive either. This is when someone needs to step up to the plate and make it official. The way to do that in the inbound world is to ask prospects to fill out a form. That way, you capture their details and can invite them to more romantic dates with your content.
3. Close: Think you've found 'the one'? Well the first thing to do is snap her up before anyone else does. This is where that big diamond ring comes in (you know, the one that will cost you three months' salary...). But make sure you get her father's blessing before popping the question, and leave it up to him to decide if it's a worthy union. When it comes to your marketing, the father-in-law-to-be is your sales team, so don't forget to involve them at this point and let them give the lead the final seal of approval. After all, they are the experts at closing deals.
4. Delight: You may have tied the knot, but it doesn't end there. You need to make sure your woman is delighted with married life. Happy wife, happy life right? This means engaging with her and making her feel special. In marketing terms, this means keeping in touch with your customers and continuing to produce great content - you want them to feel that they made the right decision. And if all goes well, you may even be able to upsell them something one day.
Our infographic below outlines the B2B courting process from the first meeting through web content to the 'marriage' that ultimately occurs between business and customer:
I think our first date went pretty well, don't you? I hope you found what you were looking for. Do you want to make it official and sign up for some Inbound Marketing training? Click below if so: