In Australia there are over 14 million folks on Facebook and nearly 3 million active Aussie users on Twitter, meaning that as a nation we are pretty social media savvy. It is fair to say that the majority of us have mastered the art of social on a personal level – but what about business? Posting as an organisation is vastly different to tweeting and gramming on your own account, but also suspiciously similar. You need to keep that chatty, charismatic charm that you do oh-so-well with your own social, but there are some definite no-go's when it comes to professional posting. To make sure you don't stumble into some serious sh*t with your social we have pulled together the top 5 worst things you can do on your b2b social media accounts.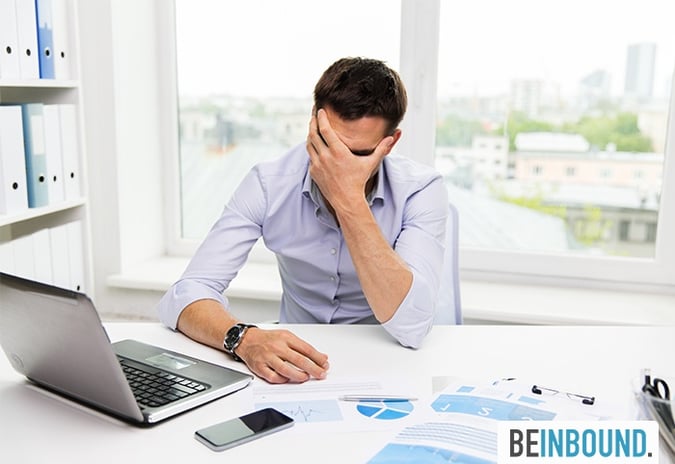 Disrespectful Posts
There is a reason that this is number #1, because you really want to avoid offending your audience. Offering an opinion on current events that could be misled as disrespectful or in bad taste is risky business. Always double and triple-check your posts before clicking the 'Upload' button, and if you can, run it by a colleague just to make extra sure. If there is even a shadow of doubt that it could offend someone, play it safe and don't post.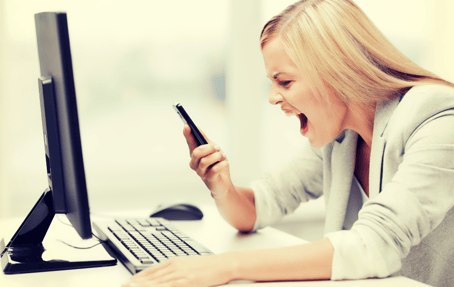 Political Opinions
This goes with Social Fail #1 as a way to avoid irritating (or alienating) your audience it is recommended that you keep your personal political opinions to yourself. This should not be taken lightly. People have literally lost their jobs over stuff like this.
One particular horror story revolves around Justine Sacco, a former employee of InterActive Corp. 'Former' due to one immensely stupid tweet that she posted when boarding a airplane to head home to South Africa...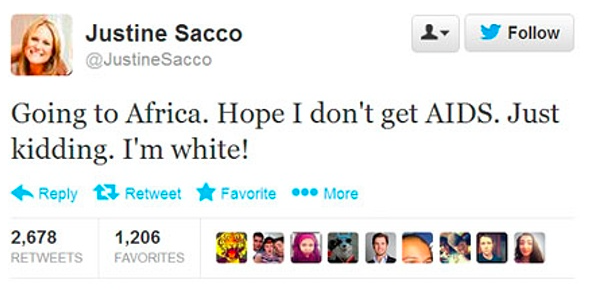 Image taken from The Guardian
I mean, really?!
While Justine was up in the air this tweet got an extreme amount of traction. In fact it received over 2,500 retweets and triggered a trending hashtag of #HasJustineLandedYet. On arrival into Africa, Justine quickly deleted the offending tweet and her entire twitter account, but it was too late. She was fired from her role as 'Communications Director' and, to top it off, the likelihood of her ever holding a prestigious position in her field again is slim as her blunder will be eternally Google-able.
We have faith that you won't be this daft, but please use this career-destroying stuff-up as a constant reminder to always stay on the social straight and narrow.
Secure or Private Information
This one is a bit of a no-brainer. Try not to share any private information about yourself or your team. Avoid home addresses, mobile numbers and of course never exchange any bank details over any social network. While we're at it, super personal things shouldn't be posted up on business accounts either – the rant about your neighbour using your wheelie bins again and the 1,480 photos from your recent family holiday to Bali do not belong on your business' social accounts.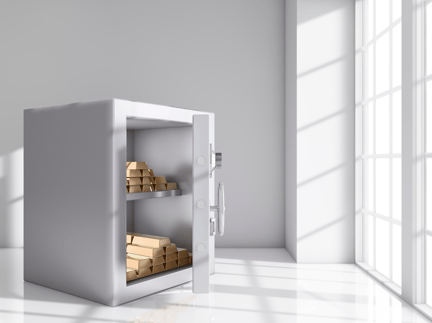 Slap-in-the-face Self-Promotion
As well as this being a cardinal Inbound Marketing sin, it is also a massive blunder on social media, mainly because your audience will completely tune out. No one wants to be sold to – they want to be educated, entertained and delighted. Social media is where you want to start your conversation with a lead, not where you want to end it. So don't treat your Facebook page as a streaming billboard of sell, sell, sell, but use it to trigger and engage in compelling conversation with your audience.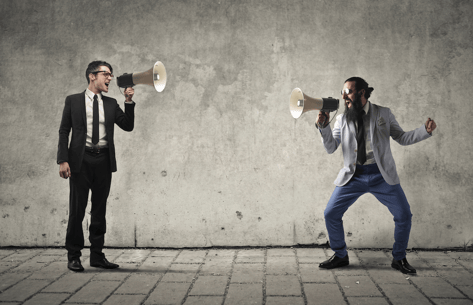 Robot-like Automation
We understand that managing your social media full-time is a big job and it is highly unlikely that you will be able to reply to every social inbox within milliseconds of it arriving. But please don't let this push you to template responses. Put yourself in your customers' shoes, if you had a query or question for a company and contacted them through social media and your advances were returned with a generic, run-of-the-mill automated response then what would you think of that company? I would personally see them as disingenuous, out of touch with social media, and uninterested in my concerns. Also, using automation in this way means that you are losing out on one of the best selling features of social media – the chance to add a human touch to your marketing. So, even though if it means allocating an extra ten minutes a day on checking through your social notifications, avoiding automation and having a DIY approach to social significantly decreases your chance of frustrating a customer and increases your opportunity to delight them!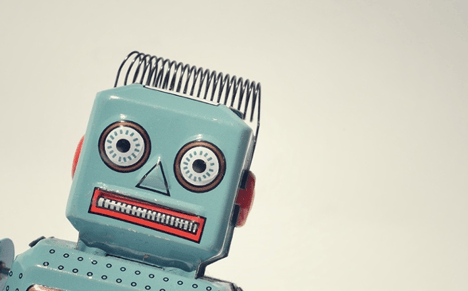 Well there you have it. The ultimate never-to-do-list. Stick by these rules and it is guaranteed that you will drastically reduce your chances of stuffing up.
…that being said, if you are still worried about your actions on social, don't panic – we have a solution! We are now running an Inbound Marketing training program to fix problems just like these. If you are keen to learn more, please click on the CTA below to have a look at our course brochure and discover what training package will work best for you.