We've created an interesting list on who we think are some of the top B2B marketing and social media gurus that you should keep tabs on... or at least start social media stalking them ASAP!
1. Seth Godin
This man has grown to become a staple of the inbound and B2B marketing world, despite starting off in the world of work as a Canoe Instructor. Seth has managed to rally up over 409 thousand twitter follower and a legendary reputation through creating and selling his $30 million company 'Yoyodyne', creating the immensely popular community website 'Squidoo', publishing seventeen books and running an awarding winning blog.
Seth has also become the poster boy for 'permission marketing'. This is a concept he created himself, that refers to marketing to customers who have given 'permission' for content to be sent to them – rather than annoying them with unwanted material.
With a title like 'the ultimate entrepreneur for Information Age', which was given to him by Business Week, we reckon that he is someone you should definitely be keeping your eye on.
Quirky Stats on Seth:
He likes to call people who create buzz online 'Sneezers' who are spreading the 'IdeaVirus'

He has exactly 409,696 twitter followers

His books have been translated into 33 different languages

In 2013 he was inducted into the 'Direct Marketing Hall of Fame', and is only one of three to have ever achieved this
Must see blog post:
The Best Lesson from Fantasy Football's Success
Blog:
www.
sethgodin.typepad.com
Twitter:
@ThisIsSethsBlog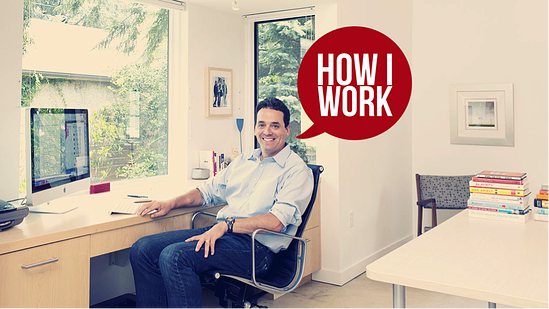 Image source: img.gawkerassests (
http://img.gawkerassets.com/img/18ohg69zf1wjfjpg/original.jpg
2. Daniel Pink
This guy is a top bloke to social stalk. Named as one of the top 15 business thinkers in the world by Thinkers 50 and after publishing five provocative (and best-selling) books about the changing world of work, it is obvious that Daniel Pink is in the know of how to succeed in a business environment.
His podcasts know no bounds, with topics relating to writing the best email pitch to an interview with Oprah. If you decide to join his other 297,000 followers then his tweets can keep you up to date with current marketing affairs four times a day too.
Cool Facts on Mr Pink:
He calls his subscription newsletter 'The Irregular and Irrelevant Pink Newsletter'

He dabbled in politics and even worked as chief speechwriter to Al Gore before making it big on his own seventeen years ago

He now hosts a new National Geographic Chanel show about human behaviour
Must see blog post: How to Persuade Others with Two Irrational Questions: A Big Think Video with a 'Jedi Mind Trick
Website: www.danpink.com
Twitter: @DanielPink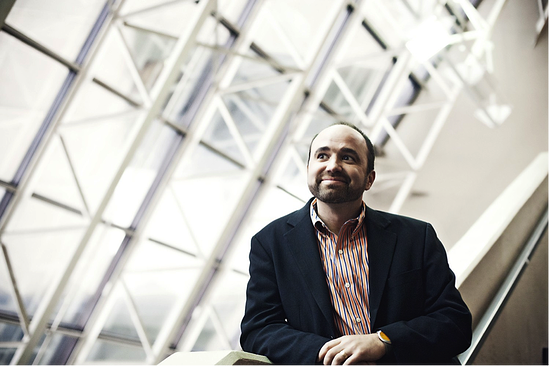 Image source: http://blog.linkbird.com/de/wp-content/uploads/2013/11/Joe-Pulizzi-Content-Marketing-linkbird.jpg
3. Joe Pulizzi
As the founder of the 'Content Marketing Institution' (the fastest growing media business of 2013) Pulizzi has been using the term 'content marketing' for almost 15 years. It is fair to say that he is a celebrated veteran in this field and a business entrepreneur.
His twitter is filled with handy tips and tricks, to which he shares his knowledge to his 58 thousand followers around 10 times a day. We know this sounds like a lot, but don't let the quantity fool you because they are also top quality – what else would you expect from the poster boy of content marketing!
Quick nitbits about Joe:
He likes to wear orange. A lot.

He is the selfie king with fans at conferences

Oscar-winner, Kevin Spacey was a keynote speaker this year at 'Content Marketing World', which Pulizzi is the brains of
Must see blog post:
Confession: A big mistake we were making with Content Marketing
Website:
www.joepulizzi.com
Blog:
www.contentmarketinginstitute.com/author/joepulizzi/
Twitter:
@JoePulizzi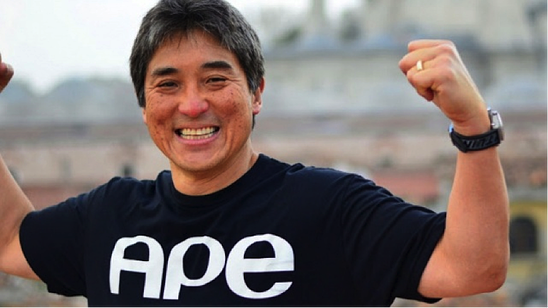 Image source: http://cdn.cultofandroid.com/wp-content/uploads/2012/12/Screen-Shot-2012-12-11-at-15.24.19.jpg
4. Guy Kawasaki
Before Guy 'started listening to his own hype and wanted to start a software company and make really big bucks' he was was the 'Chief Evangelist' at Apple for four years. Now, Kawasaki can be found at the 'Canva' office in Sydney, developing graphic design tools for the online world.
While working at the 'Canva' offices, Guy has mastered the art of social media - sharing a wonderful mix of social strategy posts and funny memes that will spice up your office scrolling. With a string of best sellers and a 107 thousand twitter followers, Guy is definitely a social media guru.
Quick Facts about Guy:
He spent two weeks at Stanford University Law School before he realised that he hated it and left

His first job was with a jewellery company

He was born in Honolulu, Hawaii
Must see blog post:
Behind the Scenes: How I Post on Social Media
Blog:
www.blog.guykawasaki.com
Twitter:
@GuyKawasaki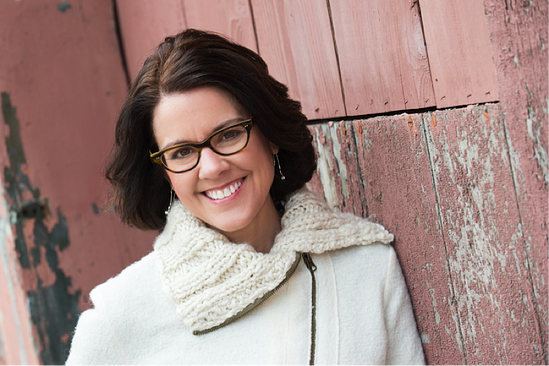 Image Sourced: annhandley.com (http://www.annhandley.com/press/)
5. Ann Handley
This woman knows a thing or two considering she has been crowned the most influential woman in Social Media. Ann has definitely mastered the art of writing how you can rethink your business markets.
As the Chief Content Officer of MarketingProfs and the co-founder of ClickZ.com (a top notch source of interactive marketing news and commentary) she has quickly become a LinkedIn influencer and the proud owner of 257 thousand twitter followers.
He tweets are seriously helpful if you need help mastering your marketing and there always an odd inspirational quote thrown in for good measure!
Quick Anecdotes about Ann:
Her pinterest account is filled with marketing infographics

Her monthly marketing column for Entrepeneur magazine has become one of magazine's most popular features
Must see blog post: 50 Social Media Habits You Can Stop Doing Now
Twitter: @MarketingProfs
LinkedIn: www.linkedin.com/in/annhandley

So there you have it! Our top 5 gurus for social media and B2B marketing. Do you have any that you follow? Let us know in the comments below.
If you'd like to learn more about content marketing and how to use content to effectively engage with your contacts and convert them into sales qualified leads, take a look at our Content marketing course
Image source: fasttrackcreative.com (
http://fasttrackcreative.com/wp-content/uploads/2014/02/Seth-Godin.jpg)